Books & Travel Guides for Gambia
Mobile Page

Bookshops
Publishers
Lonely Planet Gambia

The ultimate travel guide book for the independent traveller to the 'Smiling Coast' packed full on practical aspects of travel.
Rough Guide to the Gambia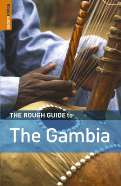 This new Rough Guide gives you plenty of travel information and insights written by authors whose knowledge and experience of Africa go back two decades. Package-holiday visitors have many questions answered, while the guide suggests a wide range of activities particularly in the area of eco-travel for independent travel.
Bird Watching Guide
A brief guide to where to go to watch the wonderful birdlife in The Gambia, illustrated with 40 of photos.
The Gambia
Photos of a traveller's trip including coastal areas plus Mandina Lodges eco-resort along the river between mangroves of Makasutu Culture Forest.