Introduction: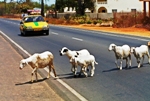 In 1998 the total road network in Gambia was 3,742 kilometres long consisting of tarmac roads as well as gravel, soil, bridges, feeder and farm roads. The Road Conditions Survey of 1998 showed that only 21% of the road network was in good condition, 33% regarded as fair and 46% as in critical condition.

The network has increased recently due to the construction of Kombo Coastal Roads Project and the Essau to Farafenni stretch with a bridge at Kerewan in the North Bank funded by the Kuwaiti Government. The planned construction of the Serrekunda - Mandina Ba Road (Phase II) jointly funded by the IDB, OPEC and government will further expand the tarmac component.

The med-term aim is to achieve the objectives of the highways transport sub-sector is through private sector and government participation in route rehabilitative maintenance and building. In the long term, the functions of management, growth and roads maintenance will be financed from resources of a special Road Fund and transferred to the Highway Authority.

The total length of the network of roads listed below are 190km of tarmac or paved roads and 66km of graded laterite roads. The estimated cost is over D290 million. These infrastructural developments are vital for the development of the economic sectors of tourism, trade haulage, agriculture, fisheries and the efficient movement of the labour force.


Road projects completed (1994 to 2007):

Place Names:-
Cost
Length
Million
Kilometres
Airport Rd.
(dual carriageway in complex)
D4m
2
Army Barracks Rd.
D300,000
0.6
Bakau Main Rd.
D450,000
2
Basse Main Rd.
D3.5m
3.6
Basse to Sabi Rd.
D5m
10
Basse to Fatoto Rd.
D6.5m
40
Basse to Yorobawol
D3m
6
Essau to Kerewan
D71m
52
Fatoto to Koina
D5.5m
10
Ibo Town
D1.2m
1
Kombo Coastal
D168m
112
Kotu Silo Rd.
D3.02m
2.5
Lamin to Mandinary
D10m
7
Latkumba Lowe
D4.2m
1.5
Tabokoto to Sinchu Alhagie
D8m
5.6
The above includes conduits.
New / Proposed Roads
Cost
Length
Million
Kilometres
Barra - Amdalaye
D190.8 million
20km
Basse - Sabi
D166 million
10.3km
Brikama – Darsilami – Dimbaya
D99 million
11km
Farafenni – Laminkoto
D660 million
115km
Mandinaba-Selete
D88.92 million
12.7km
Mandinaba - Soma Road
D1.08 billion
142km
Kerewan - Farafenni
D360 m
57km
Soma – Basse
D486 million
192.2km
Serrekunda – Mandinaba
D510 million
28km
Trans-Gambia Highway
D252 million
24.4km

On top of the above proposed and new roads and rehabilitations essential bridge crossings have been constructed.


| | |
| --- | --- |
| Bridges: | D millions |
| Chamoi | 3m |
| Karansani | 2.3 |
| Kerewan Bridge | 43 |
| Sare Alpha | 2 |
| | |

The above highways and routes come to a total length of over 600 Kilometres of paved or bituminised road and the total cost is estimated to be D3.89 Billion.