Currency Denominations:
The Gambian Dalasi is the currency in circulation. It is subdivided into 100 Bututs.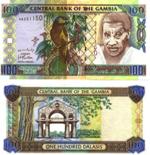 Coin denominations come in 25, 50 and 1 Dalasi. Banknotes come in denominations of 5, 10, 20, 25, 50, 100 and 200 Dalasis. The 1 Butut is no longer legal tender in the economy.


| | | |
| --- | --- | --- |
| ISO 4217 Code | | GMD |
| Numeric Code | | 270 |
| Central Bank | | Central Bank of Gambia |
| Symbol | | D |
| Coin Units | | 1 Dalasi |
| Banknotes | | 5, 10, 20, 25, 50, 100, 200 Dalasis |

Travellers' Money Advice:
(1) Accommodation



If you are visiting The Gambia on a flights plus self-catering accommodation or B&B holiday package, and want
to minimise expenses by cooking your own food or eating out at local restaurants, using local joint taxis, and maybe going on a few nights away from your accommodation either staying with local families, camping near the beach, or in budget hotels, it should be possible to survive on about £125 per week. With two or more people your budget can be stretched further.



It's obviously much more difficult to keep costs down in the coastal resorts such as the Kololi, Kotu, Bijilo or Brufut where enticing conveniences and products are available such as tourist restaurants, large supermarkets, salons, massage parlours, night clubs, spas etc. If you travel on a flight-only package to Banjul Airport and decide to reside in one of the tourist hotels, the cost of lodgings is likely to be your largest single expense. You will find more competitively priced lodgings just a little further south of Kololi, in Kerr Serign, which is still within short walking distance to the tourist hotspot of the Senegambia Strip area.

If you want to stay somewhere up market and in the resorts there are some good value for money and luxury hotels on the beach.

If you want to see more than just the coastal resorts of The Gambia, an excellent way to keep monetary costs down is by hitch hiking or bicycling, which not only saves on taxi fares but also enables you to look for budget priced rooms or tent pitching space.





(2) Dining
If you have opted for a self-catering apartment then there are several ways to save money. The first is to shop at one of the local village markets for fresh vegetables and fruits. The cost of basic produce in markets is much lower than you will find in supermarkets. Fresh fish can be purchased at the Bakau fish jetty or if you're staying further south along the coast, in Tanji. If this sounds like too much hassle then most supermarkets have a frozen meats section which also stocks local produce which is not only cheaper than the imports but helps the local economy too. For other staples try the larger Mauritanian stores which sell bags to cups of rice, tomato paste, cooking oil, spices and other foods at lower prices. You can combine a sightseeing and shopping trip by visiting Serrekunda Market where you will find a wide range of foods for sale.


As for eating out in restaurants you can get a satisfactory meal for as little as £1.50 at street food stands and takeaways. At realistically priced tourist restaurants you can get a main meal from £2.50 to £6 and a bottle of purified water for about £0.50. A bottle of soft drink will set you back around £0.40 while a bottle of the local beer, called Julbrew, is about £0.60 and a glass of white wine is around £1.30. These are only rough guides as prices for food and drink vary greatly between local side-street restaurants in the tourist areas and those near the tourist-class hotels. Prices are even lower the further you move away from the tourist resorts.



(3) Debit and Credit Cards
The Gambia is a largely cash based economy. Credit and debit card acceptance, such as Visa, MasterCard and American Express, is not yet widespread but is increasing among top to mid-range establishments. Some of the tourist-class hotels, supermarkets, top restaurants and service providers such as car rentals, take debit and cards. Visa cards can be a handy way of getting money from some ATMs such as those belonging to Standard Bank which has a branch on the Senegambia Strip in Kololi. Please note that transactions charges and commissions are usually payable for their use in hotels, restaurants and banks. There is usually a maximum limit of cash per ATM withdrawal (about D3,000), but you can often withdraw multiple times. TIP: the crispest Gambian Dalasi notes are often dispensed by ATM cash machines usually in D100, D200 and sometimes D50 notes.





(4) Travellers' Cheques
As a general rule you will bet a better rate of exchange by changing cash than using travellers' cheques. On the other hand it is advisable to carry some funds in the form of travellers' cheques as they offer greater security and can be replaced if lost or stolen. If possible try and buy your cheques from your own bank as it maybe possible to bypass the one or two per cent charge. Thomas Cook and American Express travellers' cheques are the mostly widely recognised names, and are often the quickest to re-issue cheques.

(5) Foreign Exchange Services
Though there are some banks and exchange bureaux in Europe that handle the Dalasi, you will get a better rate of exchange in The Gambia,
and it will reduce the amount of bulky cash you need to carry around as there are no large denominations like in more developed countries. If you do get the chance then consider obtaining about D2,000 to cover initial expenses after coming out of Banjul Airport such as your taxi fare and tips - there are exchange bureaus and a bank at the airport. Much of the time the largest banknote (D200) is worth less than £4. The other thing to remember is to try and get a good mix of banknote denominations so you can change as close to what you need in the local currency. If you are travelling solo then small denominational notes will sometimes be accepted by a taxi driver as well as some lodges. Even the Airport Tax can be paid in UK Pound Sterling, US Dollars, Euro, Danish Kroner or Swedish Kronor.

There are many foreign exchange bureaus near and within the resorts such as Kotu, Bijilo, Kololi and Fajara. Though rates of exchange are fixed by the Central Bank they are free to offer discounts for customers changing bulk cash, and usually with zero commission. Bureaux tend to offer a more personalised and faster service than the banks as they tend to handle less paperwork. Tourists are strongly advised to stay away from those offering to change your money on the parallel black market as it is illegal to use them.

If you are travelling up-country then it is advisable to change as much as you think you'll need, then some more. This is because exchange facilities in the up-river regions of The Gambia are few and far between, though you will find them in various towns such as Farafenni, Soma, Janjanbureh, Basse Santa Su, and Mansa Konko.



(6) Tipping Advice
If you are booked into a tourist hotel or lodge, and join organised trips, you should normally tip staff, but it can be difficult to know how much to tip at the end. Many hotel staff make less than £1.50 per day, while self employed, such as bird guides can make considerably more. For most small services the equivalent of about £0.40 should suffice. For waiters and waitresses working in independent private restaurants, about 7.5% of the bill is recommended. For room staff and hotel waiters who are taking care of your needs on a daily basis consider giving up to £1 twice a week. The other option is to look out for a gratuity box which is quite common now in hotels and restaurants.

This way tips are gathered at the end of each day and shared out equally. This avoids the situation where waiters get the bulk of tips while kitchen staff and doormen see far less money, if any at all. Tips are an essential part of staff income and often pay for things like fares home and back to work, and some essential daily family needs.

Don't tip taxi drivers who simply pick you up and drop you off at your destination. Tipping is not expected so don't feel obliged to do this at all as locals don't. However, if your driver helps you out in other ways such as carries your luggage to your room etc. then a small note gift should be enough. If you go on an organised ground tour, the trip's drivers and guides see tips as an essential part of their daily income, as they would normally struggle on their basic pay. The staff may hand out a collection hat at the end of the trip so each guest should tip say £2.



(7) How Much Do Things Cost?

This is difficult to pin down in the local Dalasi currency due to the variable exchange rate and inflation, therefore the following gives you a range of prices for a given commodity or service in UK Pound Sterling. Generally some items can cost less than in Europe while other items can cost more, while at other times a big price difference in The Gambia is as a result of where you acquire your goods and services. Buying anything from inside hotels is generally costlier than outside, and again prices inside and in the vicinity of the resorts tend to be higher than further away.

(8) Money By Wire


If for any reason you find yourself short of funds during your trip then money transfer is one option open to you. However, the recipient can only receive money in the local Dalasi currency. Some of the best known and widespread remittances companies are Western Union and Moneygram. You are better off bringing all the funds you need for your vacation in foreign money and travellers' cheques, and extra as a back-up, as remittances are a costly way of sending funds to you.

(9) Taxi Fares

Short hops in shared taxis and vans is about £0.11 and these prices are regulated. Exclusive use for say a trip from Kololi to Kotu is just under £1 while a trip to Serrekunda Market is almost double that - these fares are negotiable. Taxi fares from the airport to the holiday resorts of Kotu, Kololi and other destinations are posted on the right hand side of the exit and are fixed. Make sure you have the equivalent of at least £10 ready after collecting your luggage. For all other fares from your accommodation it is best to get advice from your receptionist. It is important to note that just outside most of the large hotels there are green tourist taxis. These tend to be more expensive than the yellow cabs and your receptionist can advise you; prices for certain locations are sometimes posted just outside the main entrance.



(10) Travelling To Senegal

If you are taking a short flight or overland trip into neighbouring Senegal then you will need some CFA francs (pronounced 'sefaa'). This is a common currency in 7 other West African countries. The CFA is also accepted by some stores near the ports in Banjul, across the river at Barra as well as upriver in the easternmost town of Basse Santa Su. In the future The Gambia may join a regional monetary union and adopt a new common currency called the ECO to be legal tender in a West African Monetary Zone (WAMZ).

(11) Your Change

Getting back your change (called 'wechit') might not seem such a problem at first but over one or two days you may find your purse or wallet amassing a bundle of floppy, dirty notes which are difficult to keep aligned straight. As a general guideline the smaller the banknote the worse its condition. Small corner shops tend to give back the tattiest notes, many have adhesive tape or staples holding them together, and some are almost unrecognisable. Try and visit one of the banks and ask them to change say D500 for some good condition D5, D10 and D25 notes. New notes are usually channelled through banks and supermarkets first, with supermarkets often having the best in the smallest notes; this can be a bit of a hit and miss affair though. If you simply want small change quickly then kindly ask at one of the petrol stations. Try opening a tab at your hotel's bar so you don't have to handle cash so much.

(12) Duty Free
Travellers aged 18 or over arriving or departing from The Gambia may import or purchase the following products at Banjul International Airport duty free zone which are tax exempt.
• 1 litre of beer, wine or spirits.
• 200 cigarettes, 50 cigars or or 250g of tobacco (or combination up to 250g).
• Goods with a value not in excess of D1,000



(13) Security

Keep all your valuables such as jewellery, passport, travellers' cheques and reserve cash etc. in your in-room safe or at the reception. When travelling out and about use a money belt or similar holder and don't inadvertently display wads of cash when out in the general public. Pickpockets are quite active in busy markets and other crowded public places.

(14) Bulk Cash
If you are to receive large amounts of Dalasis from a bank in packets then ask for it to be given to you in 'sealed packets'. This saves you time in having to count it and if you are going to make a payment in bulk cash the recipient may accept it without counting if he/she has an account at the same bank.

(15) Currency Restrictions

From time to time foreign currency trading restrictions may be announced. For example in August, 2013, it was announced by the Gambian authorities that "Shipments of foreign currency have to be done through banks and with the approval of the Central Bank of The Gambia," with individuals departing from the country being restricted to taking $9,000 in foreign currency. In that same year the authorities also pegged the Gambian Dalasi against the US Dollar as well. The situation is fluid and subject to change. For the latest announcements on currency restrictions see the Central Bank.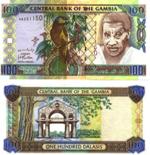 100 Dalasi banknote
Obverse & reverse



50 Dalasi banknote
Obverse & reverse



25 Dalasi banknote
Obverse & reverse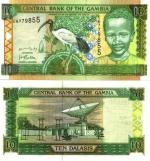 10 Dalasi banknote
Obverse & reverse



5 Dalasi banknote
Obverse & reverse








*NB: Any of the above advice is subject to change without notice, and does not represent the final word on monetary matters. Please check details with the relevant airlines, banks, travel agents, tour operators, relevant public bodies etc.