Gambia Houses For Sale
3 Bedroom Bungalow For Sale in Old Yundum, Gambia
Contact Owner
Photos
Property Location: Old Yundum, TAF Yarambamba Estate Layout, Kombo North District, Coastal Rd.


Type: Single storey unfurnished bungalow house


Bedrooms: 3


Bathrooms: 2


Utilities: Nawec water & electricity supply


Sale Price: £43,000


Description:
This property is an unfurnished standard design, affordable house for sale in Yarambamba Estate Layout in Gambia's Old Yundum housing area. The house consists of a combined lounge and dining area, modern kitchen, 1 master and 2 guestrooms, shower rooms, a back garden area.

The building has full utilities as well as cabling for a satellite dish.

Property Details:
• 3 bedrooms (master ensuite)
• 2 bathrooms (shower, toilet, wash hand basin)
• Fitted kitchen with sink
• Living room with dining area
• Landscaped back garden

Note:
House price offers are subject to change without notice. Always confirm details with the property title holder or estate agents concerned.

Photos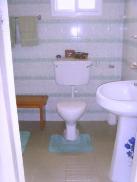 Contact Home Owner / Agent Address Details:

Sohna Property Company Ltd.
Bertil Harding Highway
Kololi, Senegambia
Greater Banjul area
The Gambia
West Africa

Tel no: +220 3523001
3523000
3523002

Email: sonacompany@gmail.com

* Property Code: HR003

Website: Here



Houses For Sale
---
Home | Disclaimer | Privacy Policy



Copyright © 2009 Access Gambia
All Rights Reserved


Please Note: Always use the services of a Banjul based lawyer before making any real estate decisions.
---