Information: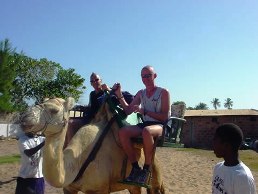 These camels (Dromedaries) have been imported from other places (mainly Senegal) for the tourist industry. For a unique experience, you can hire some camels for a ride along the beach which lasts for half an hour or a full hour and includes a beach barbecue.

One place to try is Pepe's Camel Safari in Tanje (Tanji). Each animal carries 2 passengers seated on either side of he camel's humps. Rides are organised by a Spaniard who is the captain of the Joven Antonio who also happens to breed them locally.


Once at the beach, you will meet your designated camel. An assistant will explain how to mount the animal, then youíre off along the sand for an unusual but unforgettable ride. As you get accustomed to the camelís rolling gait, you will soon understand why these sometimes bad tempered beasts are often called "the ships of the desert." Drinks are available at Pepe's stables before you set off.

You can also choose to go on a Roots boat tour to Juffureh, James Island and Albreda in a boat which is stocked with drinks, food and has a toilet with a shaded canopy.


Directions:
Take a bush taxi from the garage in Serrekunda; which will take you south along the coastal road. Look for the sign on your left immediately after you cross the bridge into Tanje.


NOTE:
Not recommended for visitors with neck or back ailments, or for expectant mothers. Children under 8 years are half price.


Contact Address Details:
Website:
Tanji Camel Safaris
Tanji Fishing Village
Kombo South
The Gambia

Tel no: +220 9911692
9947398
7745744

Email: jovenantonia@hotmail.com

Trips available on a 1/2 or 1 hour basis.