Contact Address Details:

Lemonfish Art Gallery
Website: lemonfish.gm
Kartong Village

West Coast Region
The Gambia
West Africa

Telephone number:
Hannie - Netherlands: +316-2298313

Hannie - Gambia: +220-764 3948
Bakary: +220-640 9786
Email: lemonfish@web.de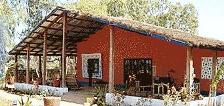 Directions:
The gallery is situated on a large

knoll encircled by verdant tropical greenery facing the sea. Once at the main village just ask for directions.


Information:
The Lemonfish Gallery

was first inaugurated in the quiet south Gambian village of Kartong, which borders Casamance, in March 2005.

At its opening it showcased the works of twenty eight West African artists. The concept was dreamed up by its German curator Nina Effinger as an arts project to create revenue for local artists and at the same time provide them with a means to exhibit, promote and sell their artistic works. The creative forum also allows them to collaborate with other painters and sculptors in the EU and Africa.


The Arts Complex:
The building comprises of 2 public viewing halls with their original collections of contemporary African Art and a good sized portico for staging art exhibitions, events. They are also able to host conferences and meetings at the centre.

There are cultural workshops for art students and professionals
presentation tools such as media and video to stimulate creative ideas. During the tourist season there are special holiday workshops for tourists and other visitors to exchange views and ideas with local Gambian artists.



Other Facilities:
• Souvenir Shop
The outlet sells arts, fashion clothes, crafts, African Jewelry and other items produced by local craftsmen in projects that operate on the principles of Fair Trade which is aimed at empowering local producers and promoting sustainability.


• Guest Rooms


There are 5 rooms with en-suit bathing and a 24 hour stay includes bed and breakfast. African dishes and snacks available throughout the day.


• Excursion away from the Lemonfish Gallery and onto the mangroves and the Halahin River by Pirogue. This river skirts the border between the Gambia and Casamance in Senegal.