Information:
The Reggae scene has a large following in Gambia and the reggae singers and bands to look out for are musicians such as Momodou Sanu Jallow aka Silver Youth, Joloffman, Njie B , Rankin Fire, Jungle P, Jah Bless and New Chilly. Many play what could be called Afro-Reggae and their most influential role model is undoubtedly Bob Marley and the Wailers.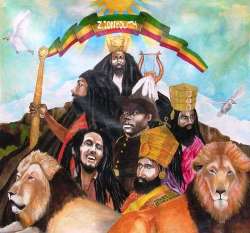 The Reggae genre was born out of the ghettos of the island of Jamaica in the West Indies. Since then its influence has spread to other countries and continents around the world. In Gambia Reggae's influence can be seen in many sections of the community. Among the youngster, reggae is seen not just as a musical art form but as an avenue for the spreading of the religious beliefs of Rastafarianism.

One reason for the popularity of reggae are its political themes and its fight against social injustice as well as calling for the general upliftment of black people from around the world. The genre's popularity in Gambia is not surprising bearing in mind that it has always allied itself with the underprivileged and deprived in society and advocates equality and justice for all. This should also be seen in the light of the fact that the Gambia is one of the poorest countries in the world with its fair share of ghettos. Youths can readily identify with the slum conditions featured in video clips of everyday, downtown Jamaican.

The African continent's association with Rastafarianism
is not just limited to the visit to Jamaica by His Imperial Majesty Emperor Haile Selassie's l (Lij Tafari Makonnen) on April 21, 1966 but also to the struggle for independence by various African nations. Reggae artists, particularly Robert Nesta Marley, continually drummed home the need for liberation from the yolk of colonialism.

Over the past 20 years or so reggae music has spread among youths and other sections of Gambian society at a pretty phenomenal rate. It can be heard in local side streets among the Attaya drinkers, in peoples houses, restaurants and bars. Many youth have even opted to speak with a Jamaican accent when conversing with one of their own and are very knowledgeable about all the big names in Reggae from the UK to the West Indies such as Buju Banton, Luciano, Jah Cure, Sizzla, Capleton (King Shango).
In December 2005 Buju Banton (a.k.a. Gargamel) gained a lot of fame in Gambia when, at the encouragement of his friend Lamin Manga, he visited and performed on Christmas Eve and Christmas Day. His visit helped to further enhance reggaes popularity among Gambians but as he himself observed "As I walked around, I was greeted heartily by dread and non-dread that truly embraced Rastafari." Another artist to grace these shores was the late Lucky Dube was pleasantly surprised by how much Gambians knew about his lyrics and the words to his songs. As he performed in 2000 at the Independence Stadium in Bakau, the youths sang in unison with him.

One local newspaper has asked the question of why reggae is so popular in The Gambia? While out in the field an intrepid reporter got some of the following responses:

One youth named Modou Secka, who was introduced to reggae as far back as 1985 through artists like Ija Man and Dennis Brown when reggae was still dominated by the likes of Burning Spear, Peter Tosh, Jimmy Cliff, Culture, Rita Marley, Marcel Griffiths and others. To him, the music makes him think about issues affecting society and the world. He described reggae as a way of life. According to him, his contacts with Jamaicans during his 18 years of stay in America has made him realize how most Jamaicans strongly feel attached to Africa as most of them consider themselves as Africans. He described The Gambia as a "Small Jamaica."

Young Gambian ladies have not been left out of the craze. Ajie Fatou Njie is one such woman whose preference for reggae is always apparent. She said the music keeps her strong in her daily toils in life. "Every morning" she said, "I listen to reggae before doing anything. Such songs as 'Prison Walls' by Jah Cure really serve as inspiration to me. Without reggae I don't really know what my life would have turned into."

To her, reggae is a means through which black people speak against an exploitative world system. She quoted Marcus Garvey's popular saying that "Ethiopia will stretch forth its hands to God and princes and princesses shall come out of Africa" for her belief.

Reggae's contribution to Africa's immense social and political transformation has in no way been insignificant. It has inspired Africa's youth who see joy in associating with a phenomenon that creates an outlet for social and political consciousness.